There are many things to consider when looking for the best places to retire in the Southwest. As a retiree, you will need to find an area that has a low cost of living, is tax-friendly, and has access to quality healthcare. 
We've seen it go wrong plenty of times as well though. The last thing you want to do is find yourself in a community you dislike in your golden years. Here's ten places in the Southwest we're sure you'll love. 
How We Chose These Places
There are various reasons why we chose these specific places to reside in for your retirement. 
Cost of Living
When you retire, you can expect to spend somewhere between 55 and 80 percent of your current income on retirement. If you choose a place with a low cost of living, it will help stretch your retirement income further. 
You can even consider having an estate sale or moving sale before choosing your retirement location to help with your living costs—some states, like Nevada, price things like healthcare and groceries lower than the national average.
Percentage of Retired People
Choosing a place to live that has a high percentage of retired people is a wise choice. It is an intelligent choice because you will live in a community with a large group of people similar to you and more activities and services for your age group. 
In a community with many retirees, there is likely to be a variety of doctors to choose from and a variety of activities like yoga, martial arts, music classes, or bingo for retirees. 
Tax-Friendliness
It is a good idea to live in a tax-friendly place so you can save money, like in Arizona or Nevada. Retirees in Arizona do not have to pay taxes on their social security benefits or some pensions.
There is no tax on gifts, estates, or inheritance to make it even better. Those over 65 and are homeowners in Arizona are eligible to receive breaks on their property taxes, which makes owning a home more affordable for retired people. Nevada is similar to Arizona when it comes to tax breaks. There is no inheritance tax or state income tax. 
Weather
Many retirees choose to live in a dry climate when they retire for many reasons. The weather in the desert is dry, which can improve your health. Living in a humid place can make these health issues more severe if you suffer from respiratory problems, lung disease, or asthma. 
A dry climate is good for your health because there is no moisture in the air, leaving no room for bacteria to enter your lungs. In addition, living somewhere warm is ideal so you can enjoy the sunny weather year-round during your retirement.
Access to Quality Healthcare 
The place you choose to retire in should have access to quality healthcare. There is typically not a shortage of doctors, hospitals, pharmacies, or medical equipment stores in heavily populated areas with retirees. The cost of quality healthcare is below the national average in some places, like Arizona.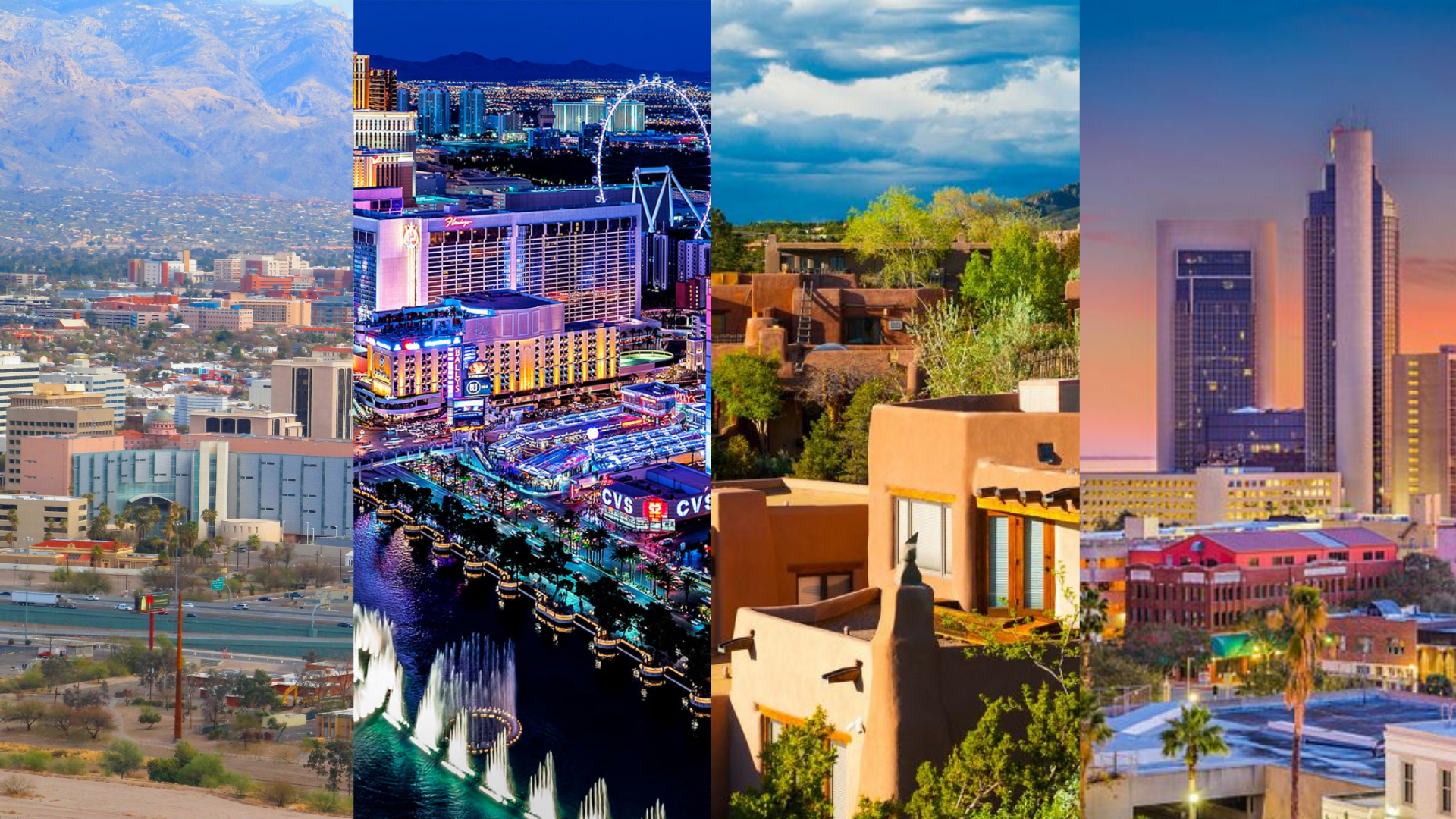 Best Places to Retire in the Southwest
These are the best places to live in the Southwest.
1. Tucson, AZ
Tucson, Arizona, is one of the best places to retire in the Southwest for retirees on a limited income. The cost to live here is below the national average in the United States, and so is the price of healthcare.  The weather here is dry and not humid, making it great for participating in outdoor activities like golf. 
There are multiple golf courses in Tucson and many parks for biking, walking, or doing some yoga. You will not have to pay taxes on your social security or pensions here and will get a break on property taxes if you own a home. 
2. Prescott, AZ
Prescott is one of the best places to retire in Arizona, as it features many landmarks and is steeped in Old West history. There are many things to do here, like hiking, golfing, even horseback riding. 
There are four seasons to enjoy, but it does not get too cold. Because of the high elevation, you have the best views of this historic town. Both groceries and utility prices are lower than the national United States average, making Prescott an affordable place to retire in. Using one of the best moving apps, like Agoyu, will ensure you can plan your move here in no time.
3. Las Vegas, NV
Las Vegas is one of the best places to retire in Nevada. As previously mentioned, Nevada is a tax-friendly state. There is no state income tax, social security income isn't taxed, pension income isn't taxed, retirement account withdrawals aren't taxed, and no estate tax or inheritance tax. 
Suppose you live far away from Las Vegas; no need to worry. Consider using residential moving services to help with your move so you can comfortably move to your new retirement location without worry. 
The cost to live in Las Vegas is less than the national average, making it easier to get more for your money while living here. You will never run out of fun things to do in Las Vegas, as there is an abundance of exciting attractions like the Las Vegas strip where you can gamble, see shows, eat, and shop.
4. St. George, UT
St. George is one of the best Southwest cities because it is known for its outdoor recreation and scenic red-rock mountain views. It is located where Nevada, Utah, and Arizona meet. 
St. George is the golf capital of Utah and has 12 available courses for golf. The climate here is warm and dry without humidity, making it one of the best places to retire in Utah. The cost of living here is low.
Utah does tax social security benefits, but the property taxes are lower than the national average. Retirees who are homeowners can get a 45 percent property tax exemption, making owning a home more affordable. There is one hospital in St. George, Dixie Medical Center, but it is highly ranked and will cover all of your healthcare needs.
5. Santa Fe, NM
Santa Fe, New Mexico, is one of the best places to live in Southwest USA. You will be living in a large town but will feel the serenity and peace of living in the Southwest. There are many things to do here, like eating at great restaurants, visiting an art museum, or hiking or walking the mountains and forests. 
The weather in Santa Fe is comfortable, and over 65 percent of Santa Fe's residents are 65 years of age or older. All of these factors make Santa Fe a great place to retire.
6. San Antonio, TX
San Antonio is a good place for retirees because of its good air quality, excellent economy, and no state income tax or estate tax. Downtown San Antonio offers high levels of walkability, and there are many nearby coffee shops, restaurants, cultural attractions, shops, and the River Walk. 
This is the perfect spot for retirees who want to stay active and are looking for things to do. The cost of living here is low compared to other states, including everything from groceries to healthcare costs. The weather here is subtropical, with mild winters and hot and humid summers. 
7. Mesquite, NV
Mesquite is a part of tax-friendly Nevada. The cost of living in Mesquite is lower than the national average for things like healthcare costs, groceries, and utilities. It is located conveniently between Las Vegas and Utah, and it has a small-town feel. 
To prepare for your move here, consider using one of the best apps for moving furniture, like Agoyu. This will ensure you get your belongings safely moved to your new location without having to worry about the stress of hurting yourself during a move. Those who like to be outdoors will be happy that Mesquite is close in proximity to areas like Lake Mead, the Grand Canyon, and Gold Butte National Monument.
8. Sedona, AZ
Sedona is a great place to retire, especially for those who like outdoor activities and incredible scenery. Sedona is known for its red rocks, which are seen in many western films like "Broken Arrow." The beautiful scenery mixes perfectly with the moderate climate.
Sedona is considered an excellent place for retirees because of the arts and hiking opportunities. It has many top-rated medical facilities, like the Verde Valley Medical Center and Sedona Medical Center. This is the best spot to retire if you want to enjoy the view and relax.
9. Corpus Christi, TX
Corpus Christi is a laid-back community to retire in. The atmosphere here is relaxing, but it can also be packed with thrill. Some retirees like to enjoy water sports. If you think of moving here, consider getting a moving quote online with Agoyu.
There are multiple communities available here to help retirees stay social, like Corpus Fishing Club, Corpus Christi Meditation, karaoke and trivia nights, and local restaurants. The climate here is desirable, and there are diverse beaches to visit here that offer relaxing vibes. 
10. Lake Havasu, AZ
Retiring in Lake Havasu is ideal for many retirees and is one of the best places to retire in the Southwest. The weather here is dry and sunny about 300 days of the year. The cost of living is low, and it is near many social clubs and outdoor activities like golfing, boating, and kayaking. 
Lake Havasu is a great place for the grandchildren to visit. You can take them fishing, camping, or go to a classic car cruise night. The nearest medical center is Havasu Regional, which is highly rated. 
Hiring a Moving Company
Now that you know the best places to retire in the Southwest, you can get started on planning your move. If you are interested in seeing how much your move will cost, you can get an instant quote from Agoyu in minutes. Give it a try today!