If you are considering retirement soon, it is good to know the best places to retire in Pennsylvania. As experts with decades in the field, we can help you prepare to make this critical move. You might be wondering, "Is Pennsylvania a good place to retire?" Retirement is all about being happy and having the time to do things you love while feeling comfortable with your financial situation and living in a safe environment.
How We Chose These Places
We chose these places for retirement in Pennsylvania for various reasons. 
Cost of Living
The cost to live in Pennsylvania is less than the national United States average. According to data from the Bureau of Economic Analysis, services and goods in Pennsylvania cost 2.5 percent less than they do nationwide. Compared to all 50 states, Pennsylvania has the 20th highest cost of living overall. Having an estate sale or moving sale before you move is a great way to save up some extra money for retirement.
Percentage of Retired People
There is a high percentage of retired people in Pennsylvania, likely because of its peaceful and slower way of life. 35.9 percent of the population is over age 50, and 21.3 percent is over age 60. 
Pennsylvania has many assisted living facilities and nursing homes for retirees to live in when they are ready. However, it is affordable to own a home in Pennsylvania because of the low cost. If you are worried about how you are going to move into a new home, consider looking into residential moving services to make it easier. Another reason there are so many retirees is because of the four seasons this state has to offer. 
Taxes
Pennsylvania does not tax its resident's retirement income, and it is one of only two states that considers pension income tax-exempt. It has the lowest flat-rate tax in the United States, at 3.07 percent. While you cannot escape federal income taxes, your tax obligation might be lowered when you retire. 
Senior citizens may qualify for a rebate on their property taxes or rent if they meet specific requirements, like being at least 65 years old or a widow aged 50 and older. There is an inheritance tax of 4.5 percent for transfers to direct descendants, 12 percent for transfers to siblings, and 15 percent for transfers to other heirs. In addition, Pennsylvania, unfortunately, has one of the highest gas taxes in the country of about 55 cents per gallon.
Low Crime
Pennsylvania has some of the lowest crime rates in the country.  The safest cities in this state report fewer than five crimes per 1,000 people on average. The crime rate is a significant concern for most people, especially those considering retirement in Pennsylvania.
Access to Quality Healthcare 
There is access to quality healthcare when living in Pennsylvania. Some of the best hospitals, like The University of Pennsylvania, University of Pittsburgh Medical Center, and Hershey Medical Center, are a short drive away and offer the best medical care. The University of Pennsylvania ranked number one when comparing all the hospitals in the state.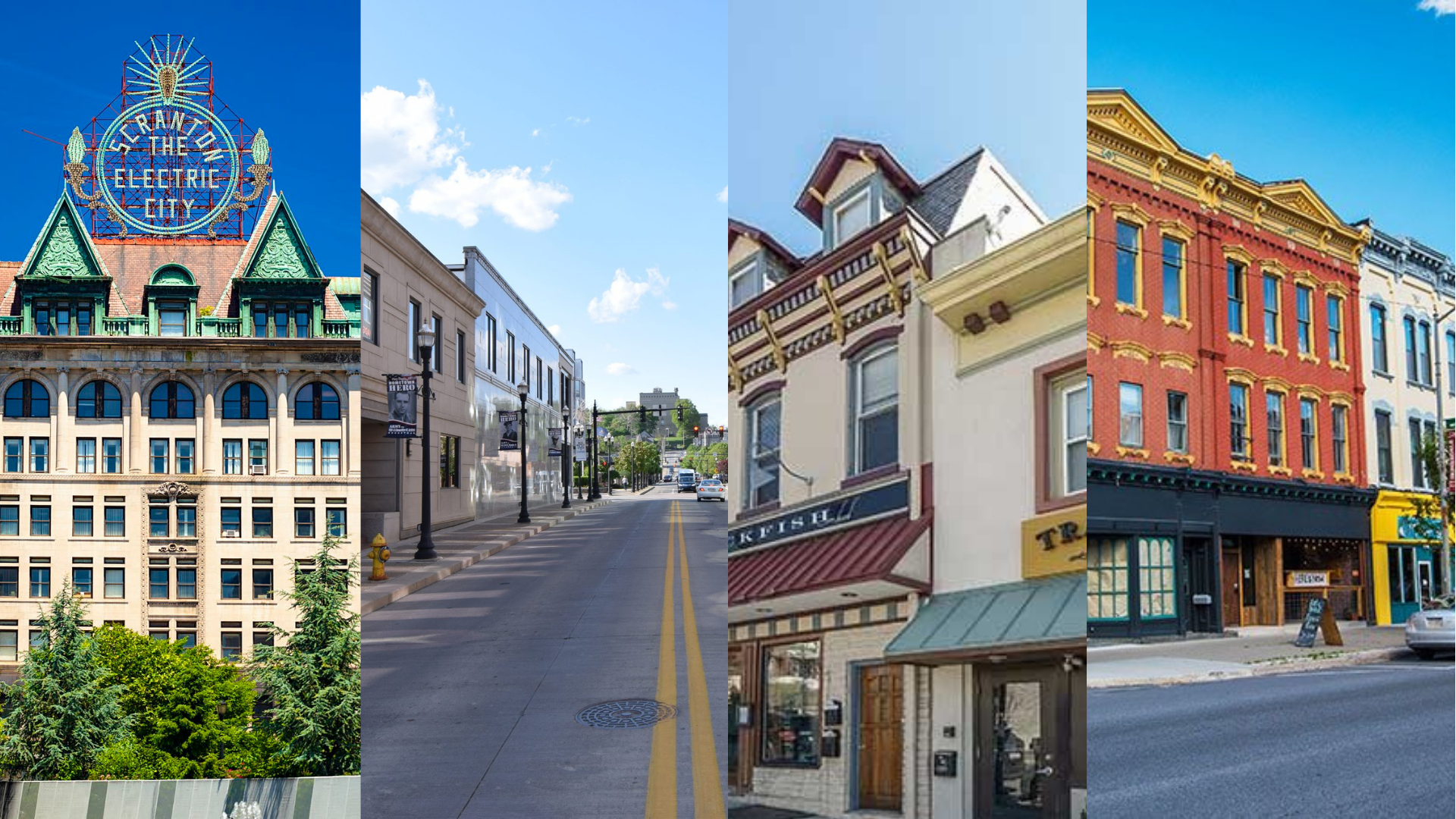 Best Places to Retire in Pennsylvania
These are the best places to live in PA for 55 and older.
1. Johnstown
Johnstown is a friendly community in the heart of Pennsylvania. It is affordable to live in and is historical. Those retiring in Pennsylvania will be able to find lots to do here. Whether it be visiting a museum, eating a variety of restaurants, or taking a tour of the historic main street. 
Johnstown offers beautiful scenery and is a great environment to retire in because of its affordability, character, and low crime rate.
2. Chester
Chester is a Philadelphia suburb on the banks of the Delaware River. It is affordable to live in Chester, and there are very few crimes in this area. The median home value in Chester is $72,400. 
This is super low and affordable compared to the prices of homes in other states. You can live the best suburban life while still having easy access to urban amenities and parks. If you are considering moving here, we recommend looking into the best apps for moving furniture like Agoyu. If you do not want to compromise your suburban lifestyle when you retire, Chester might be best for you.
3. Penn Wynne
One of the best places to retire in PA is the Philadelphia suburb of Penn Wynne. Living here offers retirees a feel of mixed living, as it is not quite suburbia or completely urban. This is one of the best things about living on the East Coast vs West Coast. 
The surroundings are a mix of suburban and urban, but also have a rustic feel. Most residents here own their homes, and there are various places to visit living here. Some familiar places retirees like to see are coffee shops, parks, bars, and restaurants. It is safe to live in Penn Wynne, and the cost of living is low.
4. Plains
Plains is a suburb in Luzerne County, with a low crime rate and low median home value. If you don't want to purchase a home during your retirement, Plains offers a variety of retirement homes to meet your needs. If you are considering moving here, you can get an online moving quote from Agoyu to better plan your move.
The view in Plains is beautiful, as there are many trees and aged landscaping. There are many nearby hospitals, like Geisinger Wyoming Valley. If you need to go to a top-rated hospital, it is about a 2-hour drive to reach the University of Pennsylvania and about 1 hour and 45 minutes to get to Hershey Medical Center.
5. Pleasant Hills 
Pleasant Hills is a borough of Allegheny County and is a suburb of Pittsburgh. It is close to the University of Pittsburgh, a top-rated hospital. Pleasant Hills has many things to do and offers a senior citizens group for retirees age 55 and older since there are many retirees.
If you join this group, you can easily make friends by joining them for coffee, doughnuts, conversation, and line dancing. It is safe to live here, and the cost to live is low. This will surely help you feel better when thinking is PA a good state to retire in.
6. Scranton
Scranton has low crime rates and a low cost of living. Costs here are below the national average, and housing costs are lower than near metro areas like Philadelphia and New York City. Scranton residents also pay less for their utilities, groceries, and healthcare. There are three hospitals within the city, Commonwealth Health Regional Hospital, Commonwealth Health Moses Taylor Hospital, and Geisinger Community Medical Center. 
It is about a two-hour drive to reach the University of Pennsylvania. There are multiple things to do here, such as walking and exploring the Lackawanna River Heritage Trail or visiting the Pennsylvania Anthracite Heritage Museum. There are also many parks, restaurants, and coffee shops.
7. Plymouth Meeting
Plymouth Meeting is an excellent place for retirees and is one of the best places to retire in Pennsylvania. It is safe, inexpensive to live, and there are many things to do. There are tons of restaurants, coffee shops, bars, parks, and trails. 
The most well-known thing to do here goes shopping at the Plymouth Meeting Mall, which is popular in the area. Retirees can also visit the movie theater in the mall or go to Sandy Hill Farms in their free time.
8. West Brunswick Township
The cost of living in West Brunswick Township is 11 percent lower than the United States national average. This makes West Brunswick Township an affordable place to retire, with low crime rates. There are multiple places to visit, such as shops, restaurants, coffee shops, walking trails, and parks. This is an excellent place for retirees to spend their retirement.
9. Honesdale 
Honesdale is a gorgeous place to live, especially in the fall months, making it one of the best places to retire in Pennsylvania. This town has a rustic feel, and the change in color of the leaves is a beautiful sight to see. Honesdale has a low crime rate and a low median home value. It is affordable to live here, and there are many things to do. 
You can visit the Wayne County Historical Society, the Wayne County Fair during the summer, the Dorflinger Glass Museum, and Honesdale Central Park. You will never run out of things to do here between the various restaurants, shops, and parks. The nearest hospital, if needed, is Wayne Memorial Hospital.
10. New Castle 
New Castle is affordable and the best place for small-town living. There are many historic buildings to see, fun places to explore, and many local parks to help you stay active. There is a minor crime in New Castle and a meager median home value. 
The closest hospital to visit is UPMC Jameson, which is highly rated. If you are looking for things to do, consider visiting the Lawrence County Historical Society, Cascade Park, The Scottish Rite Cathedral, or Living Treasures Wild Animal Park.
Hiring a Moving Company
Knowing the best places to retire in Pennsylvania is essential when choosing where you will spend your retirement. Considering a move to Pennsylvania? Need to downsize? You need the right moving company on your side, and the free Agoyu app can help you get a quote from a qualified moving company today. Click here to learn more!