Moving into a new house is an exciting and busy time, so you should have a home essentials list prepared before moving. Your new house checklist should list your must haves for your new home, which many moving apps can help you create. Some new house essentials include cleaning supplies, linens, outdoor essentials, and home safety measures.
Whether you are moving across town or the country, moving can cause a lot of stress. To help make moving a bit easier for you, we put together a household essentials list so you can plan for your move.
12 Essential Things to Buy for a New House Checklist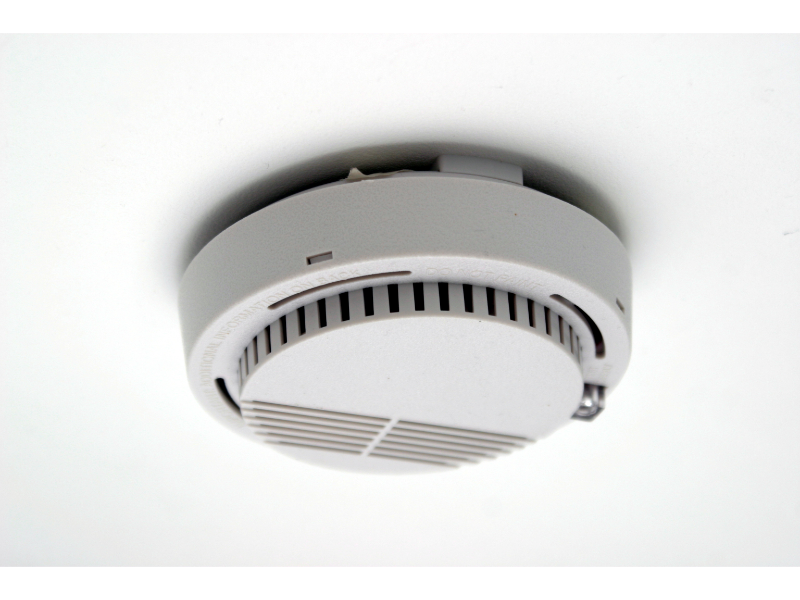 1. Smoke Detectors/co2 Detectors
Smoke and co2 detectors are essential in your new home and can help prevent potential disasters. Each floor of your house should have each of these detectors. It would help if you placed the detectors close to the sleeping area of your home and ensured the alarm was loud enough to wake you up in case of an emergency.
Both detectors will require a battery, and you should have backups if it runs out within the next few months.
2. Home Security System
A home security system is one of the most important things to buy for a new house. It can help protect your property and your family from many situations, such as a home intrusion, burglary, an environmental disaster, or even a fire.
The alarm will sound to make you aware of the issue and can even be helpful in case of a medical emergency. Self-monitoring your home is not suggested, as it can pose significant safety risks to your household.
3. First Aid and Medical Supplies
Having first aid and medical supplies on hand at your new home is a good idea. Whether your child scraped their knee, you accidentally cut yourself making dinner, or something more severe happens, a first aid kit and medical supplies can help treat the issue.
First aid kits contain medical supplies that help with scapes and injuries, cuts, burns, and sprains. Keep the medical supplies in a location that is easy to access.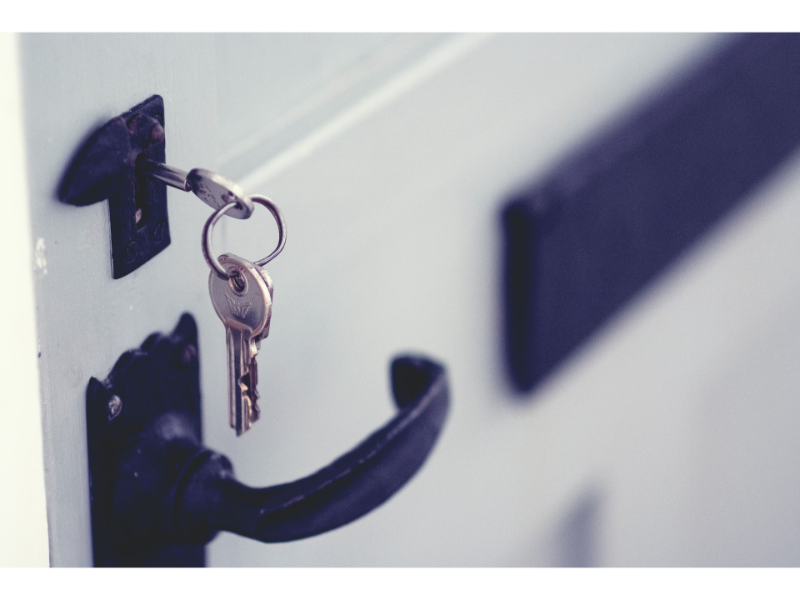 4. New Locks on Doors
It is important to put new locks on the doors to your new home. You got keys to your home at your closing, but the previous owner might have more copies of keys somewhere. It is wise to change locks just in case somebody tries to come into your home with an old key. Putting new locks on your doors will make your new home more secure.
5. Cleaning Essentials
You will need multiple cleaning essentials when you move into your new house. You will need all supplies to clean the bathroom, kitchen, flooring, and dishes. Here are some everyday cleaning essentials you will need for your new house:
Vacuum cleaner
Bucket
Mop
Cleaning cloths
A broom and dustpan
Rubber gloves
Toilet brush
All-purpose cleaner
Bleach
Toilet bowl cleaner
Wood cleaner
Glass cleaner
Sponges
Steel wool
Duster
Grout brush
Dish soap
Disinfectant wipes
6. Homeowners Insurance
Homeowners insurance is one of the most essential things to buy for a new house. Insurance on your new house will protect it in case of a fire or other disaster.
If something occurs where you need to use your homeowner's insurance, you can fall back on your policy to help pay for expensive repairs. Be sure to store your insurance policy in a safe place, like a fireproof safe, to ensure it stays safe at all times. Some common types of homeowner insurance policies include:
HO-1 Basic Form
HO-2 Broad Form
HO-3 Special Form
HO-4 COntents Broad Form
HO-5 Comprehensive Form
HO-6 Unit Owners Form
HO-7 Mobile Home Form
HO-8 Modified Coverage Form
7. Fire Extinguisher
Having a fire extinguisher in your new house can be a lifesaver. Place your fire extinguisher near an easy-to-grab place or an exit. It can be used to put out small fires and can help suppress the flames of a more significant fire until help arrives.
Fire extinguishers are considered a first aid response to fire and can help prevent catastrophic events or damage to your property.
For primary home protection, you should install a class A fire extinguisher, which helps prevent fires involving common combustibles, such as cloth, rubber, paper, trash, and plastics. Your kitchen should have a class B fire extinguisher, which helps prevent fires from flammable liquids, solvents, oil, paint, gasoline, or lacquer.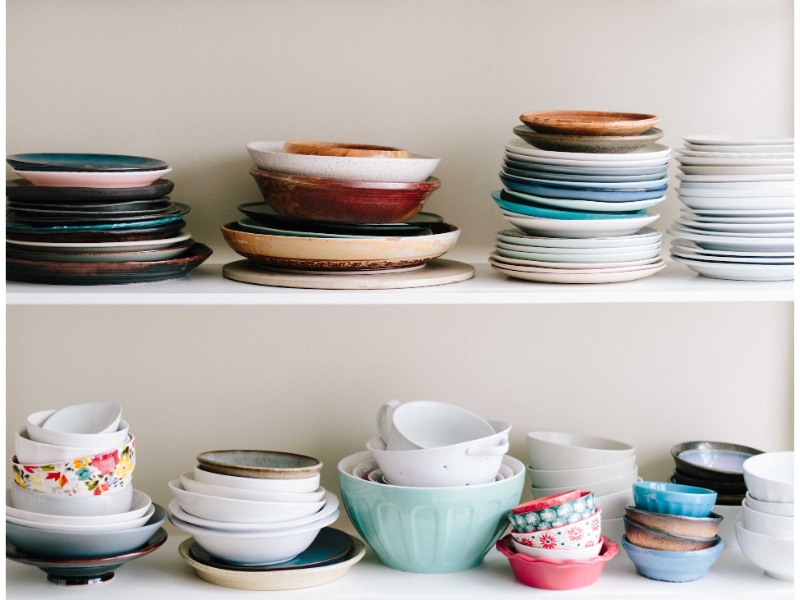 8. Kitchen Essentials
There are many kitchen essentials you will need in your new house. Whether your kitchen is small or large, you will still need these items to ensure your kitchen is fully equipped and ready to use.
Dishes
Glassware
Cooking utensils
Cookware (pots, pans, cast iron skillet)
Bakeware (loaf pans, cupcake pans, round pans, square pans, pie pans)
Cutlery (forks, knives, spoons)
Kitchen tools (cutting knives, cutting board, baking sheets, parchment paper, tinfoil, can opener, meat thermometer)
Linens (towels, aprons, oven mitts, potholders)
Food storage containers (small, medium, and large food storage containers)
Storage (shelving, hooks on the wall, bins for the pantry)
Appliances (refrigerator, oven, toaster, microwave, coffee pot)
Spices and pantry staples (salt, pepper, oregano, thyme, garlic, basil)
9. Basic Tools
Basic tools for your new house are often overlooked since there are so many other things to consider.
However, you will need basic tools to ensure you can handle general repairs, assemble or disassemble furniture, or hang pictures. Before moving furniture or other items that require assembly into your new house, be sure to have these basic tools:
Screwdriver set
Hammer
Stud finder
Power drill
Pliers
Step ladder
Tape measure
Flashlights
Batteries
Light bulbs
Hanging nails and wall screws
Duct tape
Level
Matches and candles
10. Standard Utilities
When moving into your new house, check that all of your standard utilities are turned on and ready for use. These utilities include
Internet
Cable TV
Water
Sewer
Gas
Electric
Trash pickup
11. Linens
You can't forget the linens when moving into your new house! You will need linens for all your bedrooms, bathroom towels, blankets, comforter sets, and a place to iron your clothes. There are various essential linens you will need for your new home, including
Towels
Sheets
Pillows
Blankets
Pillow covers
Ironing board
Clothing iron
Comforter sets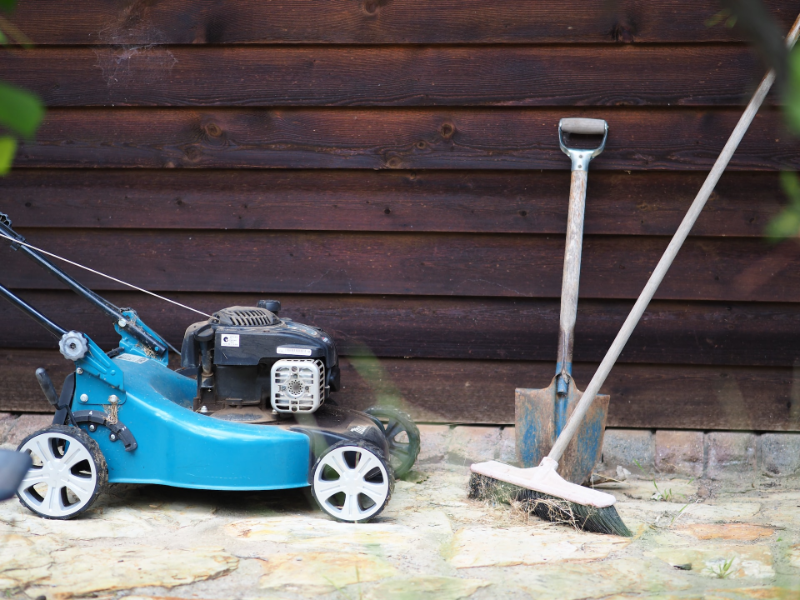 12. Outdoor Essentials
These are some essential outdoor items that you will need for your new house. You may include some things for your backyard patio with your outdoor essentials. These items are things you will need throughout all four seasons:
Hedge trimmers
Lawnmower
Snowblower
Leafblower
Seed spreader
Ax
Shovel
Snow shovel
Ice melt
Firepit
End tables
Leaf bags
Leaf rake
Wheelbarrow
Rake
Pruner
Gloves
Gardening shears
Gardening hose
Push broom
Outdoor rug
Hammock
Edger
Ladder
Barbeque grill
Trowels
Push broom
Patio Furniture
Planter pots
Shed
Patio Umbrella
Grilling mat
Grilling set
Final Thoughts
If you are preparing to move, having a checklist for your first house is helpful. It includes all of the essentials, which will help you feel better prepared and less overwhelmed.
Using a moving app, Agoyu can help you find the best movers to help you settle in your new place. You can compare movers' rates and customer reviews with Agoyu to help you make an informed decision. Contact us today for more information about using the Agoyu moving app!