As an expert in moving services, it is common for there to be confusion between an estate sale vs garage sale. It's important that you understand what these are and what works best for your unique situation. 
Keep in mind, there's also garage sales vs yard sales which is a completely different discussion. If you're moving, chances are you'll need to use one of these. Let's talk about them. .
What Is an Estate Sale?
Estate Sales are a little different than garage sales. Estate sales are held inside a home, usually to sell the items of a recently deceased person, and can also be held to sell the items inside a home that has been foreclosed or abandoned. If the estate sale is being held after a person has passed away, the family members of that person will typically hold the sale. 
Sometimes, companies are hired by family members to hold the estate sale to lessen the burden of selling the belongings throughout the whole home. At estate sales, there are various items that are being sold because there are items that have been collected throughout a person's entire life. 
Many people go to estate sales if they are looking to purchase vintage clothing, antique furniture, fine china, or rare art. Estate sales are usually held throughout a three-day period, typically over a weekend. They are usually held before deciding to contact residential moving services to lessen the load of their belongings. 
They are advertised ahead of time using posters, newspaper ads, or social media. The price of the items for sale are usually not up for negotiation, but you can sometimes bid on items that are high in price. 
Do You Need a Permit for an Estate Sale?
Typically, the company you choose to hold the sale for you already has a license and permit for them to have the sale. If you are hosting an estate sale without a company's help, you will need to contact your local town hall or borough building to obtain a permit. 
What Is a Garage Sale?
Garage sales are held to discard unwanted items in a person's household. At garage sales, you will see a lot of things like children's clothing, toys, kitchen utensils, sporting gear, and books. You can even find old furniture up for sale, but it isn't always in the best condition. 
Garage sales are usually held over the weekend in the Fall and are advertised well in advance. Sometimes, the sale doesn't last a whole weekend. This is if the sale is for a small one-bedroom apartment or a duplex home. 
Posters, flyers, newspaper ads, or posts on social media are often used to advertise the sale. You are able to negotiate at garage sales, which makes it interesting. Typically, the homeowner holding the sale is eager to get rid of their unwanted items so don't be afraid to negotiate.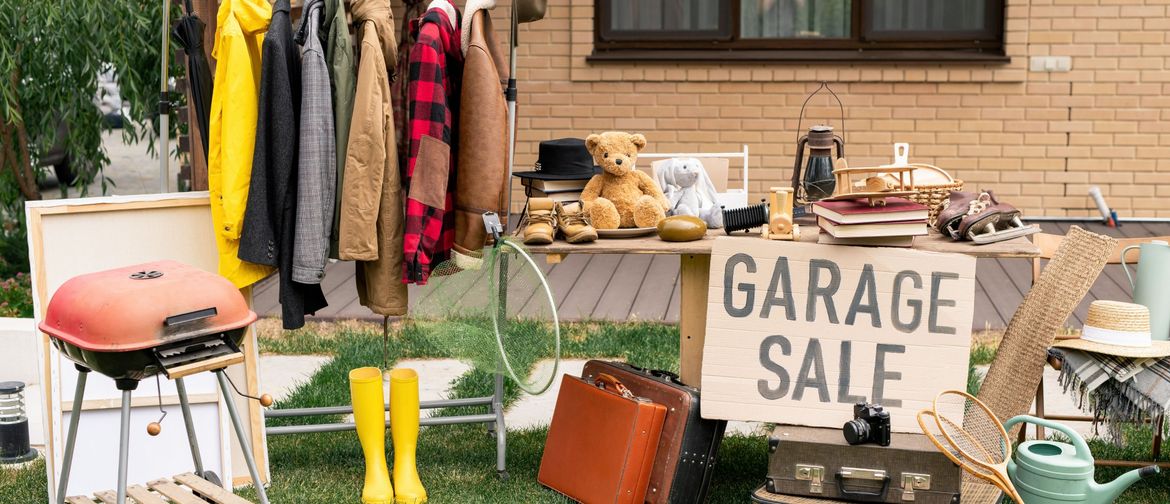 Estate Sale vs Garage Sale
There are a few differences between garage and estate sales. Garage sales are held by the owner of a house and estate sales are held by a person or company. Estate sales usually have more valuable items that are for sale and garage sales have less valuable items.
Estate sales vs yard sales are usually advertised a bit more than a yard or garage sale, including online. When the sale is advertised online, it can attract potential buyers from anywhere. Garage sales are typically advertised locally by using posters and handmade flyers. 
Another difference between estate sales and garage sales is that negotiating the price of items is common at garage sales and not at estate sales. The price of items at estate sales is usually set in stone unless the item is being bid on. The prices of items at garage sales are flexible.
Yard Sale vs Garage Sale
There is not much of a difference between yard sales and garage sales. Each of these sales is for homeowners to get rid of unwanted items that they no longer need or want. 
Garage sales might take place in a garage or driveway, and yard sales might be spread across a person's yard. These sales can also extend to the inside of a person's home. 
Pros of an Estate Sale
The sellers receive cash upfront

Can save senior citizens time and energy

Makes moving less stressful

Get rid of items in a short amount of time

Companies that do estate sales can help maximize profits from the items
Cons of an Estate Sale 
Sellers can end up receiving less money than expected from the sale

Not all estate sale companies are legitimate, so it is important to be cautious when choosing a company

Whatever you don't sell, you will need to get rid of

You need to split the profits with someone else
Pros of a Garage Sale
You can get a lot of cash quickly for your unwanted things

You don't have to take your junk any further than your garage or yard

Invite friends to sell their unwanted belongings too, so the sale looks more appealing

Negotiate the price of your unwanted items with buyers

You can donate the remaining items after the sale is over
Cons of a Garage Sale 
It takes lots of preparation to hold the sale

It can be overwhelming organizing your unwanted belongings

Supplies like stickers, tape, pens, signs, and markers cost money

You might feel exhausted after the sale
Final Thoughts
Having an estate sale vs garage sale can be stressful, especially if you have a lot of belongings you are looking to sell. Consider using a moving cost calculator to figure out what items you want to sell and what items you want to keep. 
To help make the process easier, you can search for a local company to help with estate sales on Agoyu. Agoyu is a free online tool to help you search for moving companies, compare pricing, and schedule a time to meet with the company.