If you are wondering how to move a hot tub, chances are you are moving to a new home. Moving is already stressful, and adding moving a hot tub to the list of things to do makes it more stressful. Hot tubs can be extremely heavy, especially if you don't have a lot of help.
Below you'll find step-by-step instructions on how to move your hot tub so you protect the investment and keep everyone involved safe and unharmed. Keep reading for more. 
How to Move a Hot Tub: Step-by-Step Breakdown 
Before you start learning how to move a hot tub, take into consideration these helpful steps so your hot tub will make it safely to its new location.
Plan Ahead of Time
There are various factors to plan ahead of time before you learn how to move your hot tub by yourself. Some of those factors include how far you are moving, you should know how to move the hot tub on grass or across landscaping, know if there will be stairs, know the measurements of your pathway and the hot tub, know if you are hiring movers, the weight of your hot tub, and whether or not you need to know how to move the hot tub on its side. 
It is good to be prepared so you know how long you will need help for and how long to rent the moving truck for. For example, if you are moving from California to Washington, you will need to rent a moving truck for basically the whole day depending on how long the drive will be.
Gather Your Moving Supplies
If you decide to move the hot tub without the help of professional movers, you will need to make sure you have all the necessary supplies to move your hot tub. You will need two furniture moving dollies, moving straps, cleaning supplies, and a lot of large pieces of plywood.  If you don't have a moving dolly, you can find one at your nearest hardware store – like Lowe's or Home Depot. You can rent dollies that are able to hold no more than 800 pounds. 
Rent a Moving Truck
Make sure to rent a moving truck that is large enough to hold your hot tub. If your hot tub is too big for the moving truck, you can rent a box truck, which is about 15 feet long. It is important to measure your hot tub so you know which type of truck to rent so you can properly move your hot tub.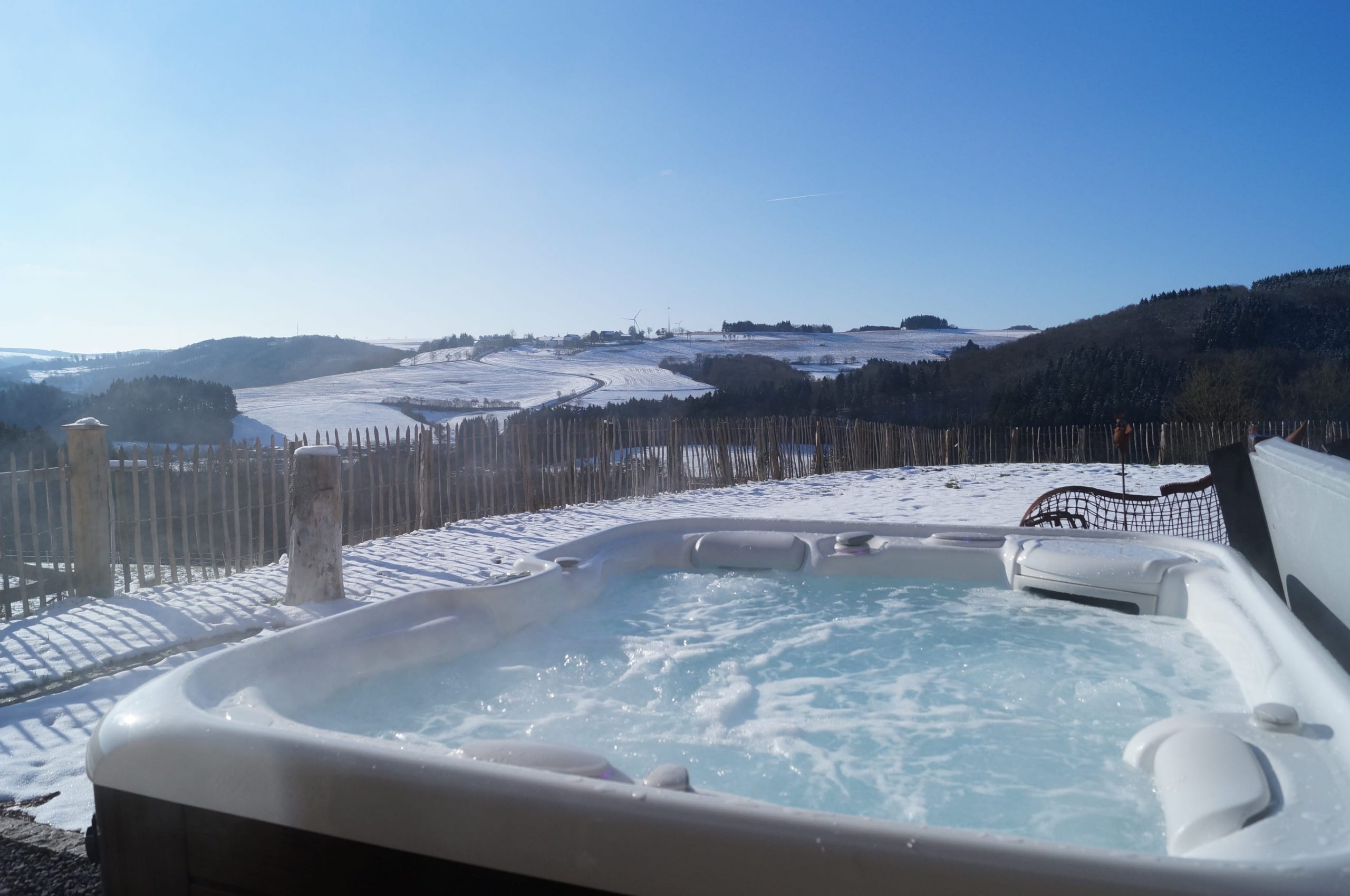 Find Help
If you are not having professional movers help you move your hot tub, you will definitely need to find some friends or family to help. Hot tubs are obviously heavy enough to need multiple people to move them. You should have about six people to assist with the heavy lifting so you don't get hurt. If you do decide to look into hiring professional movers, using a moving app like Agoyu is great for looking for professional movers in your area.
Unplug and Drain Your Hot Tub
Before your moving day, you will need to drain and unplug your hot tub about 24 hours in advance. Make sure to gather your power cord and store it in a safe place until your hot tub arrives at its new destination. If the cord does not disconnect from the hot tub, tie it up securely to ensure it stays put and does not get caught on anything when moving.
To drain your hot tub, you will need to use a screwdriver to open up the drain panel and attach a hose to the drainage nozzle. Put the other end of the hose wherever you want it to drain to, turn the valve to start draining and wait for all of the water to empty out of the hot tub. Once it is completely drained, take the hose out and close the drainage panel.
Dry The Hot Tub and Take Off The Cover
When your hot tub is done draining, wipe off any water left in the hot tub with a dry towel. When you are finished drying out the hot tub, remove your hot tub cover. You will want to move the cover separately to make sure it does not become damaged during your move. 
Your instruction manual for your hot tub will have directions on how to take off the cover. Sometimes you need to pull out screws and hinges. If that is the case, put them in a safe place to ensure they don't get lost.
Place Plywood Under The Hot Tub
To create a flat surface under the hot tub, you will need to place plywood underneath it. This will also make it easier for you to roll the hot tub onto the dollies. 
Put The Hot Tub On The Dollies
As long as you have a flat surface, you shouldn't need to roll the hot tub on its side to get it on the dollies. If the path you are taking to the truck is unstable or does not have enough space, you might need to move the hot tub onto its side.  Make sure the hot tub is securely strapped on the dollies and you and your helpers have a strong grip on the hot tub. Begin moving it to the truck.
Move The Hot Tub On The Truck
It is important to know how to lift a hot tub properly. Roll the hot tub onto the moving truck and carefully push it up the ramp of the truck. Make sure the hot tub is secure inside of the truck and keep your dollies in place so it isn't difficult for you to move the hot tub out of the truck when you arrive at your destination.
Unload To Your New Location
Once you arrive at your new location, start unfastening the straps and carefully move the hot tub down the truck's ramp. Be sure all gates are open and you have a clear path to move on. Carefully make your way to the hot tub's new location and take your time. Place the pieces of plywood in the spot where you are putting your hot tub. Once you get to the area where you are putting your hot tub, lift the hot tub from the edges and have your helpers carefully remove the dollies from underneath it and lower the hot tub onto the plywood boards. When you have it in the right place, slide the plywood out from under the hot tub.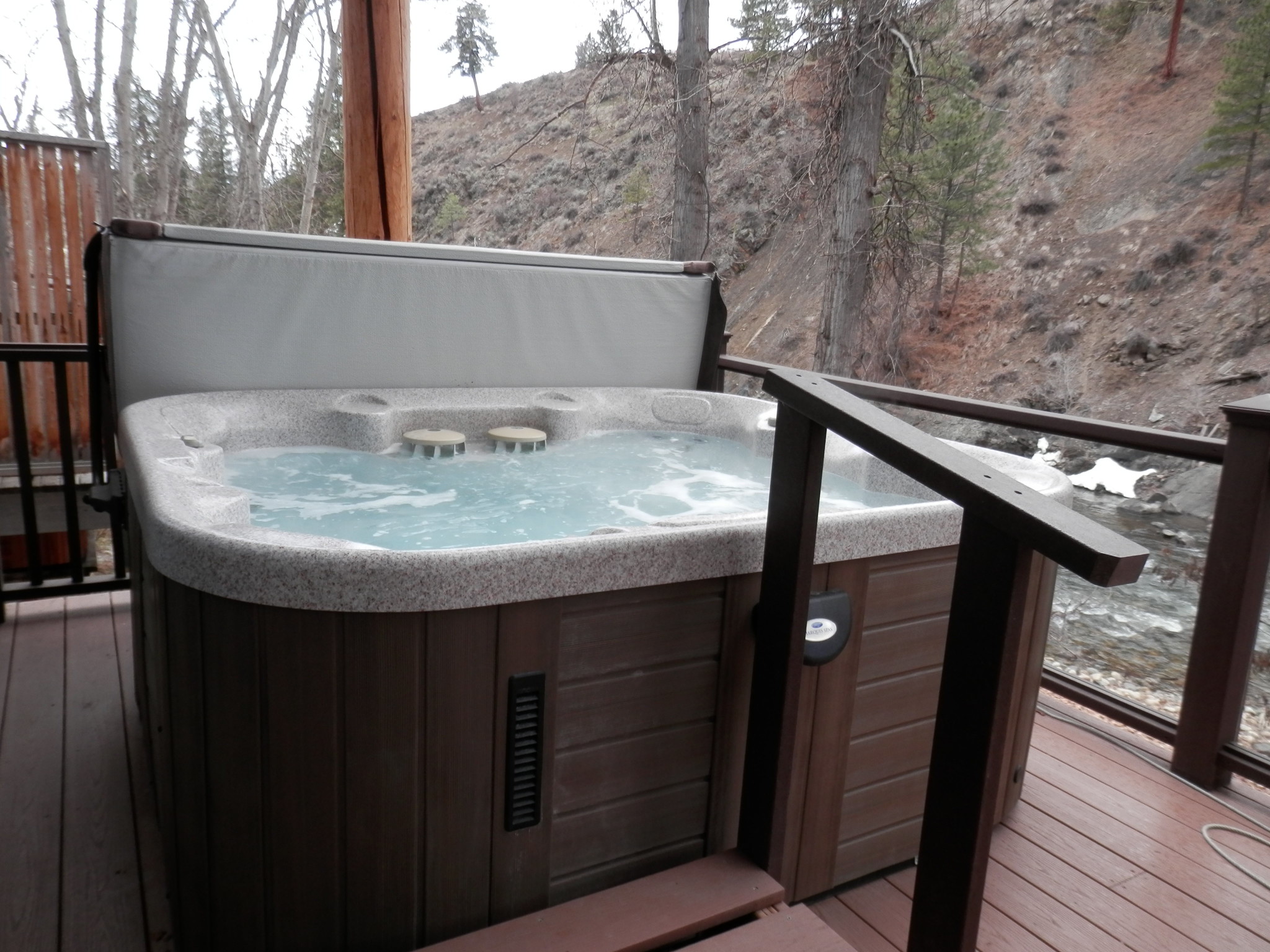 Fill It Up
Now that you have successfully moved your hot tub, clean the hot tub, refill it with water, plug it in again and enjoy!
Moving a Hot Tub: FAQs 
Here are some frequently asked questions about hot tub transportation.
How much does a hot tub weigh? 
It is common to wonder "How heavy is a hot tub?" The average hot tub weight can vary depending on size, make, and model. A small hot tub, for about two people, can weigh about 500 pounds unfilled and 3,000 pounds when filled.  A medium-sized hot tub that can fit about four people can weigh around 750 pounds unfilled and 4,500 pounds filled. A large hot tub that can fit up to six people can weigh about 1,000 pounds unfilled and 6,000 pounds filled.
Where can you buy hot tub dollies? 
Dollies can be rented or purchased through your nearest hardware store, like Home Depot or Lowe's, or purchased on Amazon or from Walmart.
Is it okay to transport a hot tub on its side? 
Yes, it is fine to transport a hot tub on its side. You sometimes need to do this if you have a narrow pathway when transporting it.
Can you move a hot tub in a pickup truck? 
Yes, you can move a hot tub using a pick-up truck. You will need to load the hot tub onto the bed of the truck using the dollies. You should have your helpers on each side of the hot tub to be safe. Tie the hot tub down and secure it to the truck with blankets wrapped around it. Drive slowly to prevent any damage.
Final Thoughts 
While you certainly can figure out how to move a hot tub yourself with some help, it is a good idea to consider having professional movers give you a hand. Professional movers have a lot of experience moving large items such as hot tubs, which will make it easier for you.
The problem sometimes isn't even moving the hot tub, it's finding the right crew to do it for you. Choosing the best moving app will help you and with Agoyu, the process is much easier. The Agoyu app can provide you with a free quote from the best moving companies in your area in only a few minutes. Get started today!