Hiring a professional mover is a great way to simplify your moving process. With online marketplaces like Craigslist open 24 hours a day, finding good movers at affordable prices has never been easier.
If you are looking for a reliable moving company at a great deal, chances are you might find a great deal from Craigslist. But there are some downsides involved with the process as well. 
Should I consider Craigslist movers? You can, as long as you are ready to accept the potential risks. In order to avoid complications that can make the process of moving even more stressful, it is best to stay alert and take the right steps while choosing.
Advantages of Craigslist Movers
When you have a busy schedule and need a quick solution for handling the moving, Craigslist looks like a great choice. In fact, it is one of the most popular digital marketplaces in the United States that offers you plenty of options.
So here are some of the main advantages of picking a mover from Craigslist
Picking a mover is very convenient with Craigslist

. Selections can easily be done with a few clicks and you can access the service anytime. You can easily contact the business and discuss the details. In fact, the whole process is super quick and can be arranged within a few minutes. Also, you can find movers located near specific cities and metro areas through the site.

If you need to move at a short notice or require some last-minute help with your moving, checking the Craigslist movers for hire is a great place to look for support.

Craigslist also offers

plenty of affordable options.

There are smaller businesses on Craigslist that offer their services at a much cheaper rate than the big moving companies. Besides, there is always the possibility of negotiating. However, we would not recommend compromising the quality of service while looking for affordable rates.

By choosing a service from Craigslist, you are helping out the individuals who are looking to supplement their incomes. These include students and other unemployed individuals.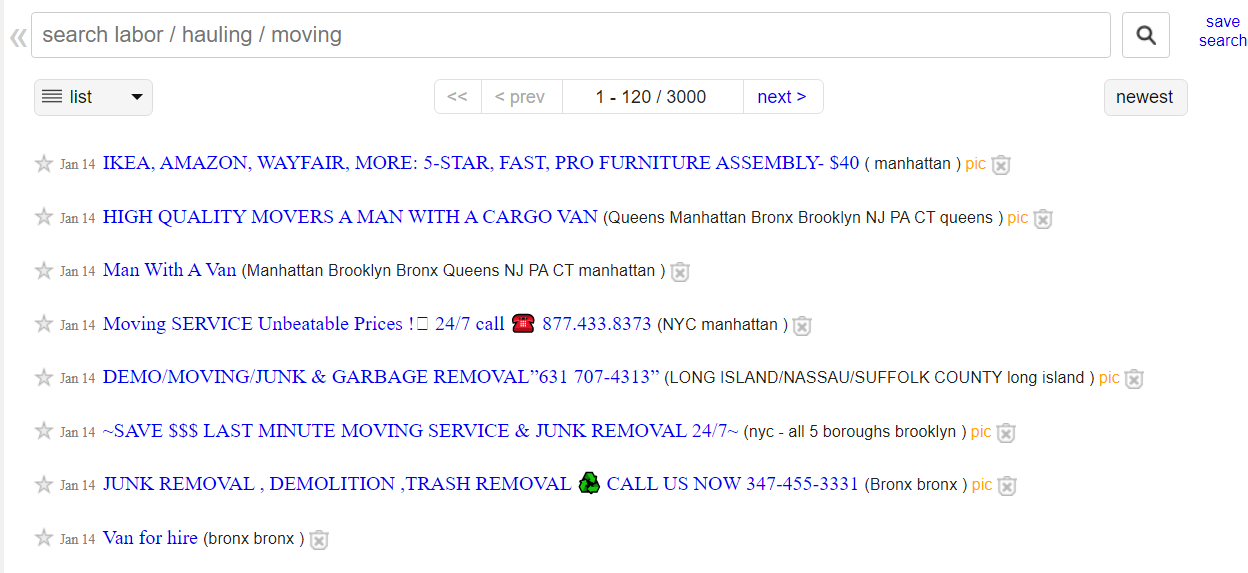 Disadvantages of Craigslist Movers 
Now, not everything about Craigslist is smooth and simple. There are plenty of snags and risks associated when you pick a Craigslist moving service.
Let us take a look at the major disadvantages associated with Craigslist movers.
Anyone can place an ad in Craigslist and there is

no user rating of the businesses

. That means you can never be sure if a Craigslist mover has the necessary licenses, insurance, or experience to handle your move in the right manner. You need to trust a moving company before placing your precious possessions or

sensitive equipment

under their care. The fact is, trusting a stranger from Craigslist can be risky.

Another big concern is Craigslist movers can be unreliable and unprofessional. They may not show up on time and lack the skills needed for handling fragile items. Some may not have special equipment necessary for handling your items, leading to damage or injuries.

While not all sellers on Craigslist are dishonest, there are plenty of

frauds and scam artists

posting ads to rip off the unsuspecting users. They may even use fake addresses and credentials to pose as legitimate businesses. Moreover,

Craigslist does not offer any form of consumer protection

. Nor will it take any responsibility in case of any fraud or deception from the advertisers.

Researching the advertisers and ascertaining their reliability is not easy on Craigslist. In many cases, they are individuals who are working part-time to help with your move. This form of invisibility makes it risky to trust the ads on Craigslist.
What to Check When Hiring Craigslist Movers?
Considering the risks involved with picking a Craigslist hauling service, there are some precautions that you need to take. 
Make sure that the Craigslist moving company you pick has insurance to cover any damage to your goods during transit. It is best to go for Full Value protection. Additional Released Value protection can also be opted for.

Any professional moving company dealing with interstate commerce should have a USDOT number. Before selecting any random Craigslist truck rental service, make sure they have this number. If they do not, the company is not registered with the

Federal Motor Carrier Safety Administration

. That means it is not legally capable of providing interstate moving services. 

In case the ad mentions a website, go through it to check for all the relevant data. Any reputable business will have a significant online presence. That means it will need a well-designed website that lists all the necessary details.

Check for any positive reviews about the business. Checking it on the Better Business Bureau site can be a good way to start. Also, use platforms like Google and Yelp for collecting any available data.

Try to arrange a meeting with the mover to sit face to face and go through the details and the estimates. Avoid finalizing a deal over the phone. The unwillingness of a Craigslist mover to meet you in person can be a potential red flag.

Shop around for movers who are willing to put all the estimates on paper and not communicate only through emails. A company that is not hesitant about leaving a paper trail is a reliable one.
How to Avoid Being Scammed?
While using Craigslist, you need to stay one step ahead of the scammers. That means staying alert and keeping your money protected.
Here are a few steps you need to take to steer clear of scammers on Craigslist.
It is always best to deal with local moving companies posting on Craigslist. That way, you will be able to verify the reliability of the business and also have a better chance to seek out any references. 

Do not share financial or personal information with any Craigslist moving company or send any up-front deposit. Reliable moving services will not ask for advance payment before the services are offered. Any

tips for the movers

should not be paid in advance either. In case any company is asking too many personal questions, back out of the deal.

While seeking affordable rates, be wary of prices that are too good to be true. Chances are, there will be unexpected fees and charges down the line. That is why it is important to get a clearly written estimate that adds up everything and mentions a total cost. You can take the help of the

top moving apps

to compare estimates. 

Always take a closer look at the estimates and contracts to prevent any surprises or hidden charges. Being thorough at the early stage of the contract will prevent headaches in the later stages.
Why You Should Avoid Craigslist Moving Services
While Craigslist makes it easy to find movers, it is not the only option out there. There are too many businesses posting ads on Craigslist that do not have the necessary accountability and expertise. Such movers are only interested in the money and not in the quality of service that they provide. 
Quite simply, you need the assistance of professionals to make the process of moving hassle-free. Hiring amateurs from Craigslist can complicate the process for you.
Final Thoughts 
Time to take a final look at the question- should I consider Craigslist movers? 
If you are ready to do the necessary background research and take the right steps to avert any risks, you can use Craigslist movers for hire. However, if you want peace of mind during the move, picking a reliable and reputed moving company is the best option.
Instead of risking it all on Craigslist, give the free Agoyu moving app a try. You can enter all the information about your move and Agoyu will connect you with the best and most affordable moving companies in your area.