When it comes to knowing how to pack plates for moving, it can be extremely difficult. The kitchen is usually the most difficult room in the house to pack up when you move. There are so many fragile items to pay attention to and it is important to know how to pack your dishes so nothing gets damaged.
The kitchen typically ends up being the last room to pack up before moving since it is so frequently used and once you move, it will be the first room you unpack. Check out some of these expert tips so you can learn how to pack these important items like a professional. 
Gathering Your Materials 
When you are moving, the easiest way to prepare for packing away your dishes is to collect all of your moving supplies first. The most necessary item you will need when starting off is a dish box, which is a particular type of box that is meant to move anything that is fragile. The base and walls of a dish box are double layered with cardboard, unlike a regular moving box with single layers of cardboard.
Since the dish box is more heavy duty than a regular moving box, it is a little bit more expensive. However, the price is worth it when it comes to protecting your fragile items from becoming damaged. It is a good idea to use cell packs when packing any glasses to help keep them from breaking or becoming damaged. 
Besides dish boxes, you will need a lot of medium sized packing boxes, some packing tape and bubble wrap, packing paper, markers, and labels. Many people use newspaper to wrap their dishes when they move, but it is better to use packing paper because it is thicker and does not have any ink on it. Even if you have a small move from Manhattan to Brooklyn, you still need to pack your items properly to avoid any damage.
A lot of the time, any writing from the newspaper will come off and stick to your dishes if they are packed in newspaper. Usually, the ink stain is not permanent. It is not guaranteed that the ink will come off of all your items, especially something like fine china. Besides the possibility of ruining your dishes, having the clean ink off of your dishes after you move just takes up too much time.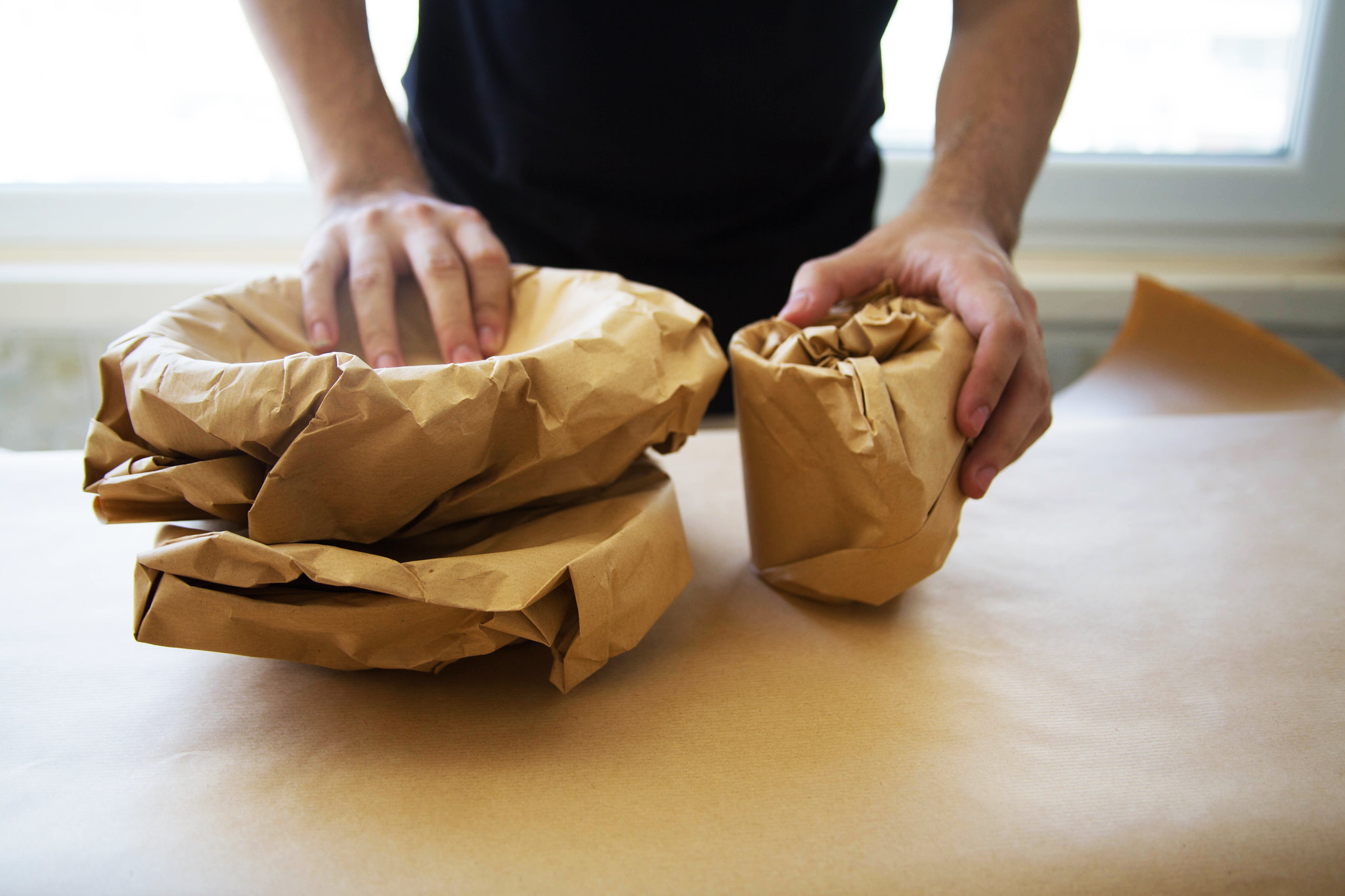 How to Pack Dishes for Moving: The Right Way 
It is important to understand how to pack plates for moving to prevent them from becoming broken or damaged in any way. 
Dishes 
Bring out any dishes you desire to pack and begin organizing them on a large flat surface, like a table. Make sure to assemble your boxes so they are ready to go, and use strong packing tape to make sure the seams and the bottom are closed correctly.
Stuff the bottom of the box with bunched-up packing paper. Wrap up each of your dishes individually by laying out a sheet of packing paper, placing the dish in one corner, and diagonally rolling it in the packing paper. You should tuck the ends in as you roll the paper.
Pack your dishes in rows and regroup similar items to help save some space. Make sure any heavy items go in the bottom of your box and put any light items on top. If the box gets too heavy, it will be difficult to carry. Be careful not to overfill the box.
Fill in any empty spaces in the box with bunched-up packing paper, bubble wrap, napkins, or paper towels. When you are done, seal the box closed and label your box with the word "FRAGILE" on the top and sides.
Plates, Platters, and Bowls
Luckily, these items are easiest to pack because they don't have edges. Start by grouping together all plates that are similar in size. Lay out a couple of sheets of packing paper on a large flat surface, such as a table. You will want to place the first plate in the middle, bringing up a corner of the packing paper and wrapping it over the plate. Tuck it in on the other side.
Repeat that fold using the other three corners until you see that the plate is fully covered. Use a piece of tape to make sure the bundle is secure. Once that is done, place your fully wrapped plate into your moving box on its side. This is the best way to pack plates when moving. Packing plates can be difficult, but it is almost like loading up a dishwasher.
For all of your plates, platters, and bowls, repeat this process so that they all are securely wrapped. Be sure to not overfill your box so that it does not get too heavy to carry. Use any light kitchen items to fill in the empty spaces of your box.
Tupperware or Other Kitchenware
If you have a lot of plastic storage containers, you know they easily accumulate. A lot of the time, lids even go missing. Now is a great time to go through your collection of storage containers and recycle or donate any pieces that do not have a matching lid.
Bundle all the containers and lids together from your plastic storage containers and secure them with packing paper or a rubber band. These items are rather light, so they can be packed with any heavier dishes to help take up space in those boxes.
Any kitchen utensils or flatware, not knives, could be placed in plastic storage bins to make it easier for you to pack them. Try to pack any similar items together, like all baking utensils in one bin and wooden spoons and tools in another. It is important to remember that when packing kitchen knives, they should be packed in a different way. Kitchen knives should be placed in either a heavy-duty knife roll or a protective sleeve. 
If you do not have either of those, you can also pack each knife in packing paper or bubble wrap by carefully rolling it up and placing a rubber band around it. For additional safety measures, it is a good idea to place your wrapped knives in a plastic storage bin and then place that bin in a moving box. Be sure to always pack your knives laying horizontally to ensure that no one accidentally gets hurt.
Small Appliances
Now that you have a better idea of how to pack dishes for moving, packing small appliances will be simple. It is ideal for any small kitchen appliances to be packed back into the boxes they originally came in. However, if you no longer have the box, you can pack the item in the smallest box you have on hand and fill any empty spaces in with bunched-up packing paper. 
If you can safely do so, pack any accessories your appliance might have in the same box. For example, if you have your coffee maker packed and the box has extra space, pack any extra filters in the same box.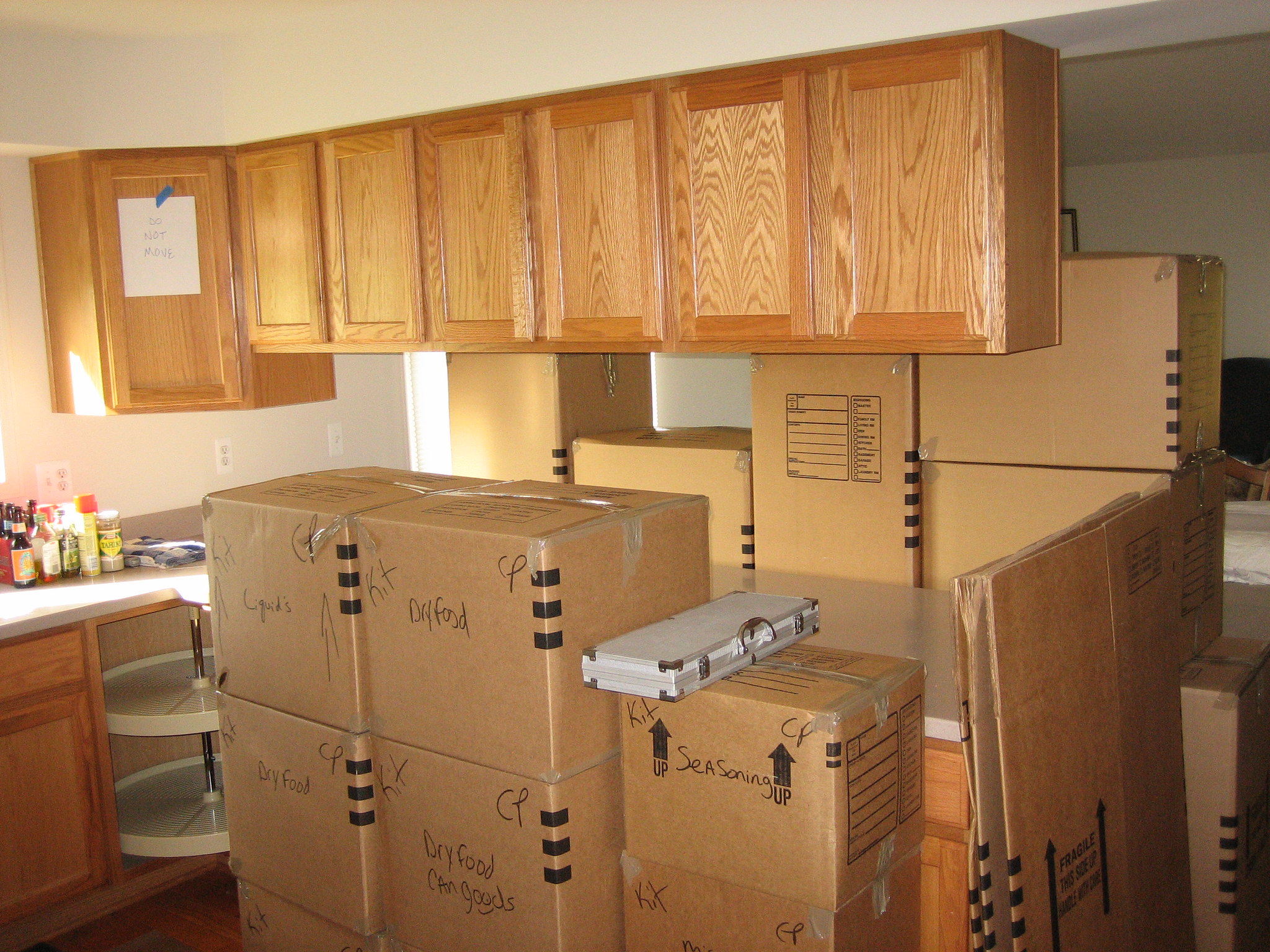 Last-Minute Packing Tips 
Place heavy items on the bottom and lighter items on the top

Use the right size box

Use towels or linens if you don't have any more packing paper

Remember to have a marker on hand to label your boxes

Have extra packing tape in case you run out
Final Thoughts
Whether you're shipping valuable china or daily use dishes, you want to make sure they're safe and nothing gets damaged. Only the best moving companies care enough about your belongings to treat them with the respect they deserve. Get online moving quotes from Agoyu today to find the right moving company for you.